Ready to double your business? Would you like to double your business – and do it without doubling your costs, time, or stress?  
If doubling your business seems daunting or impossible, check out this free talk by Reuben Swartz, that will show you how you can achieve great results without killing yourself.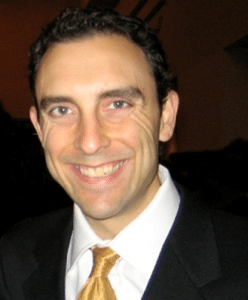 "I originally started consulting because I was really good at helping companies solve certain kinds of problems that they had trouble solving themselves. Like a lot of people who start consulting companies, I didn't put nearly as much thought into growing my own business as I did helping my customers grow theirs. So, I had to learn things the hard way", said Reuben.
Join us to hear Reuben tell us about his top 5 or so key learning moments like:
Thinking about technical problems, business problems, and growing a business
Selling for engineers
How NOT to write proposals
Automating the right things
Getting beyond commoditization (and more than tripling my rates)
Growing beyond feast-or-famine
Reuben Swartz, Founder of Mimiran (and SalesForNerds), spent more than a decade helping companies like GE, Dell, Nike, and others sell better. With more irony than an Alanis Morissette song, he was pretty terrible at selling his own services, relying on word-of-mouth. With the arrival of his twins, he started building the software he wished he'd had to help services companies sell.
(Check out his software at mimiran.com.) Reuben has presented well-received talks on sales around Austin and for the Professional Pricing Society. Mimiran won the Innovation and Technology Award for Small Business from the Austin Chamber of Commerce in 2015.
FREE MEETUP
(Lunch is on your own)
Thursday, April 28, 2016 – 11:30a-1:00p
Sherlock's Baker Street Pub
9012 Research Blvd, Austin, TX 78758
RSVP: http://www.meetup.com/Austin-Small-Business-Gorilla-Operations-and-Finance-Jungle/events/230390069/
The Austin Small Business Gorilla Operations and Gorilla Finance group has been meeting for six years. Many of our members are original to the group, and each week we welcome newcomers. Our goal is to provide business owners with free business education that they can immediate use in the operations of their businesses. In exchange we learn from great local experts and build a strong business network for our members.
Be sure to actually "join" our Meetup, by registering on the site and completing your profile. Each month you will receive an email notice announcing the topic for the month. Stop by for those meetings that interest you and let us know if you have any suggestions on topics or speakers. It's free to join.
Register today!
---
Francoise Luca, Chief Marketing Officer, Business Finance Solutions, is co-organizer of the Austin Small Business Operations and Gorilla Finance Group.
---